Business Academy Aarhus


Business Academy Aarhus develops and offers practice-orientated higher education programmes. With more than 4,000 full-time students, 3,400 part-time students and about 300 employees they are one of the largest business academies in Denmark. 
They offer higher education programmes at the level of Academy Profession and professional Bachelor's degree in a range of fields such as finance, innovation, IT, agriculture, laboratory techniques, marketing, environment, sales, service and web.
In addition to this they also offer continuing education and part-time programmes at bachelor's level and short-term courses for people who need to strengthen their qualifications on the job.
Their programmes combine theory and practice. They have about 650 international students, and every year more than 200 of our students go abroad for part of their programmes.

Developing and completing programmes must create value to students and companies alike. With this in mind they make dedicated efforts to apply their qualifications in relation to specific innovation and development projects in joint efforts with partnership companies.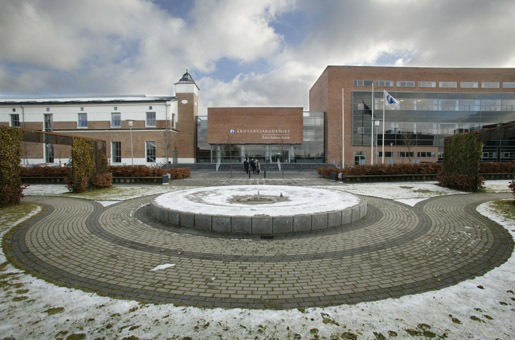 AP degree programmes
An Academy Profession (AP) degree programme is a 2 or 2½-year higher education programme. 
The programme corresponds to the first 2 years of a Bachelor's degree and the student obtains 120/150 ECTS points after completing the programme.
The following AP programmes are available:
Automotive Technology
Chemical and Biotechnical Science
Computer Science
Environmental Management
IT Network and Electronics Technology
Marketing Management
Multimedia Design and Communication
Service, Hospitality and Tourism Management
Bachelor's programmes
The Bachelor's degree programmes such as Architectural Technology and Construction Management; Business Economics and Information Technology and Financial Management and Services are 3½-year programmes corresponding to 210 ECTS points.
Bachelor's top-up programmes
The Bachelor's top-up programmes are eligible for students who have already completed an AP degree programme or hold similar qualifications. The programmes have a duration of 1½ year and the student obtains 90 ECTS points for the programme.
You can choose from:
Agricultural and Environmental Management
Chemical and Biotechnical, Food or Process Technology
E-concept Development
Innovation and Entrepreneurship
International Sales and Marketing Management
Product Development and Integrative Technology
Software Development
Web Development
Foreign applicants
Non-Danish students must apply for admission on the same terms as Danish students. They are eligible for admission if they hold either a Danish qualifying examination or qualifications recognized or assessed as being comparable to the Danish entrance qualifications.

Examples include:
Upper secondary certificates and diplomas from the Nordic countries, European countries and other countries that have signed the European Convention on the Equivalence of Diplomas Leading to Admission to Universities
 Specific requirements for all foreign applicants
In order to be admitted to Financial Management students must have especially good and documented qualifications in English.
They accept these tests with the minimum scores:
IELTS: 6.0
TOEFL Internet based: 80
TOEFL Paper based: 550
Cambridge test: CAE A, B or C
Oxford Placement test: 140 (min. 70 in each part)
Oxford Online Placement test: B2 (min. 70 in each part)
All EU and non-EU applicants must apply no later than 15 March at 12.00 pm. Later applications will only be accepted if we have available places. 
There is no tuition fee for Danish students, Nordic students, and students from the EU/EEA countries.
Information about scholarships.